Nominating Ministry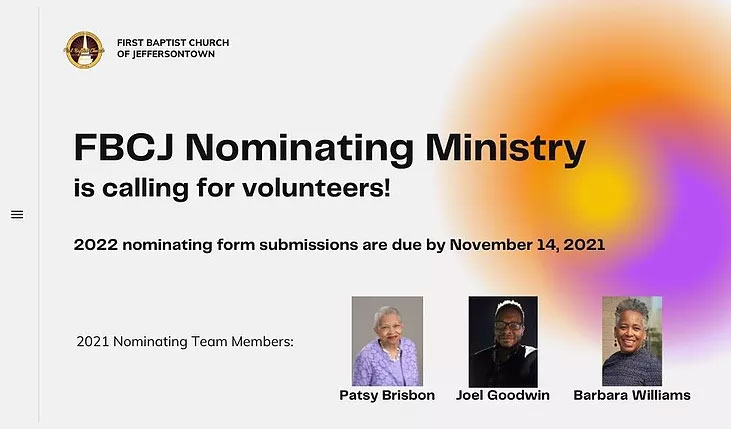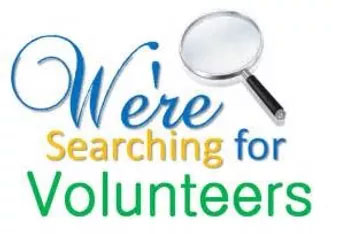 As each one has received a special gift, employ it in serving one another as good stewards of the manifold grace of God
(1 Peter 4:10 NAS).
Nominating Ministry
Responsibilities & Duties
Pray for Laborers
Update Ministry Team Selection Form
Publicize Search for Workers
Organize and Promote Ministry Showcases
Record Keeping
Present Ministry Teams to Pastor and Deacons for Approval
Plan Installation Service
Mission Statement:
The Nomination Ministry exists to effectively recruit committed Christian volunteers and workers who have received a special gift and employ it in serving one another as good stewards of the manifold grace of God in ministries at First Baptist Church of Jeffersontown.
SPIRITUAL GIFTS
What Are Spiritual Gifts?
Spiritual Gifts are special attributes given by the Holy Spirit to Every Member of the body of Christ according to God's Grace for use within the context of the Body
​Why to Discover our Spiritual Gifts?
Spiritual Gifts assist in finding God's will for our life
Spiritual Job description
Commitment of points of our gifts rather than abstract commitment
More effective service
Appropriate commitment to ministry
Bible passages with the list of Spiritual Gifts:
Romans 12: 3-9
Ephesians 4: 2-12
1 Corinthians 12: 1-31
1 Peter 4: 10-11
How to discover my Spiritual Gift(s):
Understand gifts
Accept that you are gifted
Analyze yourself
Your interests
What gets you excited
Limitations
Seek confirmation from others
Evaluate the results
Dedicate yourself to ministry
Desire, Joy, effectiveness
Facts About Spiritual Gifts:
It is not natural ability or talent
Gifts can be abused
It is received, not achieved, no room for self-choosing
Diversity within unity
Each member is unique, important and useful
Gifts are good but only when ministered in love
The gifts are diverse, but all are equally honorable
List of Spiritual Gifts
Prophecy Administration
Leadership Evangelism
Healing Intercession
Apostle Miracles
Service Discerning of Spirits
Teaching Tongue
Exhortation Interpretation of Tongues
Giving Voluntary Poverty
Mercy Martyrdom
Wisdom Celibacy
Knowledge Faith
Helps Pastor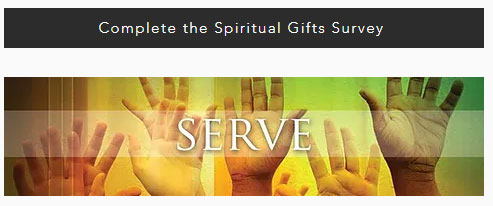 FBCJ MINISTRIES
A.C.T.S. (Caregivers/Grief)
Assisted Care Church Min.
Audio Visual Ministry
Black Awareness Ministry
Card Ministry
Church Anniversary
Communications Ministry
Community Outreach Min.
CoNnecToRs
Couples Ministry
Culinary Ministry
Extended Care Ministry
Family Life Center
Finance
Flowers Ministry
Gardening Ministry
Girls Ministry
Greeters Ministry
Health Ministry
Inspirational Choir
J'Praze Children's Choir
Ladies Sewing Circle
Library Ministry
Living Sacrifice (Liturgical Dance)
Male Choir Ministry
Ministry2Men Ministry (M2M
New Members Ministry
Nominating Ministry
Nursery Ministry
Over 35 Basketball
Photography Ministry
Praise Team
Prayer Ministry
Prison Ministry
Public Relations
R.E.A.C.H. (Evangelism)
Scholarship Ministry
Seasoned in Christ Min.
Security Ministry
Senior Dance Ministry
Singles Ministry
Sunday School Extended
Sunday School Teachers
Trustee Ministry
Usher Team Ministry
Vacation Bible School
Van Ministry
WORTHY
Welcome Center
Women's Ministry
Youth/Children's Bible Study
Youth Council